Awei ESQ3 Earphones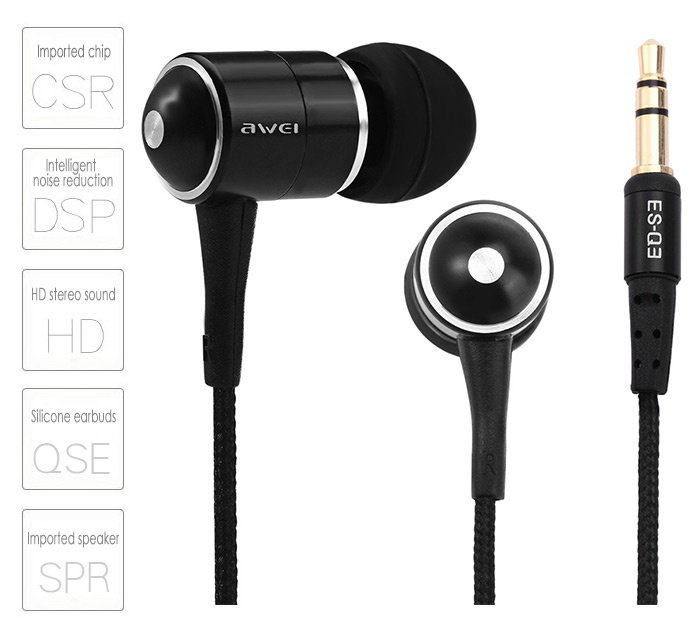 Description:
ESQ3 headphone provides you with great sound quality, super bass. Suitable for all kinds of electronic devices with 3.5mm jack port. Powerful neodymium magnet unit design, with noise isolating hi-definition technology, you will enjoy the excellent sound.

Main Features:
Noise isolating hi-definition technology
3.5 mm metal headphone plug
Super bass great sound, light and comfortable

This 3.5mm earphone plug is accord with CTIA standard. If you want to know the standard of your phone's 3.5mm interface, you can refer to the following address.
Awei ESQ3
1.2m Cable Design Noise Isolation In-ear Earphone

Perfect headphone for a disturbance free music experience

• High Resolution sound - HD and sweet vocal music, like a cappella, dynamic and strong low-frequency. Ultra fast accurate speaker design delivers the full details of today's digital music with extreme clarity and deep bass.
• Honorable Look - Metallic casing, solid and reliable, high quality with super sound. High-gloss paint with double colors, personalized fashion. Precious box-shaped casing design, fashion and full of mystery.
• Full Power - Plays crystal clear sound without distortion 
• Tangle Free Cable - Innovative, patent pending cable design is ultra flexible and tangle free.
• Noise Isolation - In ear design reduces external noise for a better music experience
• Industry standard gold plated 3.5mm connector, compatible with a wide range of audio devices 
• Ideal for use with all MP3/4/5, PC, Laptop, CD, DVD, etc.